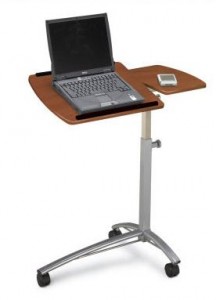 My wife has been asking for a portable laptop cart for a couple years and every one that I have looked at had something I did not like about it.  Either it was too large, too flimsy or unattractive.  Well, this Christmas I was looking again and stumbled across the Mayline – 950 – Eastwinds Laptop Caddy.  Not only did it meet all of my criteria but the price was unbeatable at $81.99 with free shipping.
Perfect Fit
The Mayline comes in two colors, but for us the cherry matched our furniture in the family room and kitchen area which is where my wife uses her laptop.  We used to keep it on the kitchen table or corner lap table and it was always in the way and cord was being tangled and tripped over.
When it arrived, the packing was very well done.  All of the wood pieces were covered and protected as were the legs and other hardware pieces.  The documentation was simple and no additional tools were needed.  I had this built in about 15 minutes and it is very sturdy and the wheels make it easy to roll around, even on carpet.  They also lock so it does not go scooting across the hardwood kitchen floor if you bump into it when it is holding a cookbook or watching a video.
One feature that was critical was the height adjustments.  Most of these carts do not get below 32″ which makes it very difficult to use from a sofa or other low sitting surface.  This one can get down to 28″ which fits my wife's needs perfectly.  I must admit that adjusting the height is a bit difficult as the spring holding the pin is very strong, but that is prefeable to a sloppy unit that could slip and cause damage to the laptop or the user.
The tilt surface is very easy to use.  It swings both ways to accommodate left handers (like me) and right handers like my wife.  The stop pads in the surface holds the laptop in place without interfering with usage.  During the holiday, my wife's mother used the cart to hold a Kindle .  It made it very easy for her to tilt the table for a good reading position and the stable surface made it easier for her to read since her hands shake quite a bit and holding books and such are difficult.
To recharge the Kindle or laptop, we simply roll the cart to a location where we store the cables and plug them in.  This keeps the cords away from traffic areas and being an unsightly mess around the most lived-in areas of the house.
If you are looking for a quality product at a good price, you really need to check out this unit.